SSA Batch 2019 Balik-Tanaw: Isang Pasasalamat and Induction of Alumni Officers
The School of Saint Anthony held its appreciation activity for grade 12 loyalty awardees and their parents who have been in the School of Saint Anthony for 12 to 16 years. Dubbed as Balik-Tanaw 2019: Isang Pasasalamat and held at the SSA Marian Hall on April 25, 2019, 50 Anthonian loyalty awardees and their parents came to this simple yet special gathering which started off with words of gratitude from SSA Director, Mrs. Victoria A. Coralejo. She began her sharing by asking the students to recite the school's mission and vision and ended by challenging them to live out these school ideals not only in words but in deeds. Parents on the other hand were thanked by her for the trust given to the School of Saint Anthony. Others who shared some recollections about the school community back then and now are Louise Ingrid Twinkle Macatangay and Mrs. Marinella Garcia. This was followed by a short video clip featuring the grade 12 students way back when they were small kids. Thereafter, a simple tribute was given by the students to the parents and the school to those present in the Marian Hall. Dr. Juliet Reyes, SHS Principal, also used to the time to orient everyone about the upcoming graduation rites. This concluded with the induction of alumni officers and the closing remarks by Batch 2019 Alumni President, David Cedric Delmacio. The closing prayer was led by Mrs. Josephine Dela Cruz.
Below are the 2019 Alumni Officers:
David Cedric Delmacio, President
Louise Ingrid Twinkle Macatangay, Vice President
Lymoel Justin A. Lopez, Secretary
Alexander B. De Lara, Treasurer
Nheil Ann P. Larha, Auditor
Miguel Anton Dee, Public Relations Officer
Kim Louis A. Palomares, Business Manager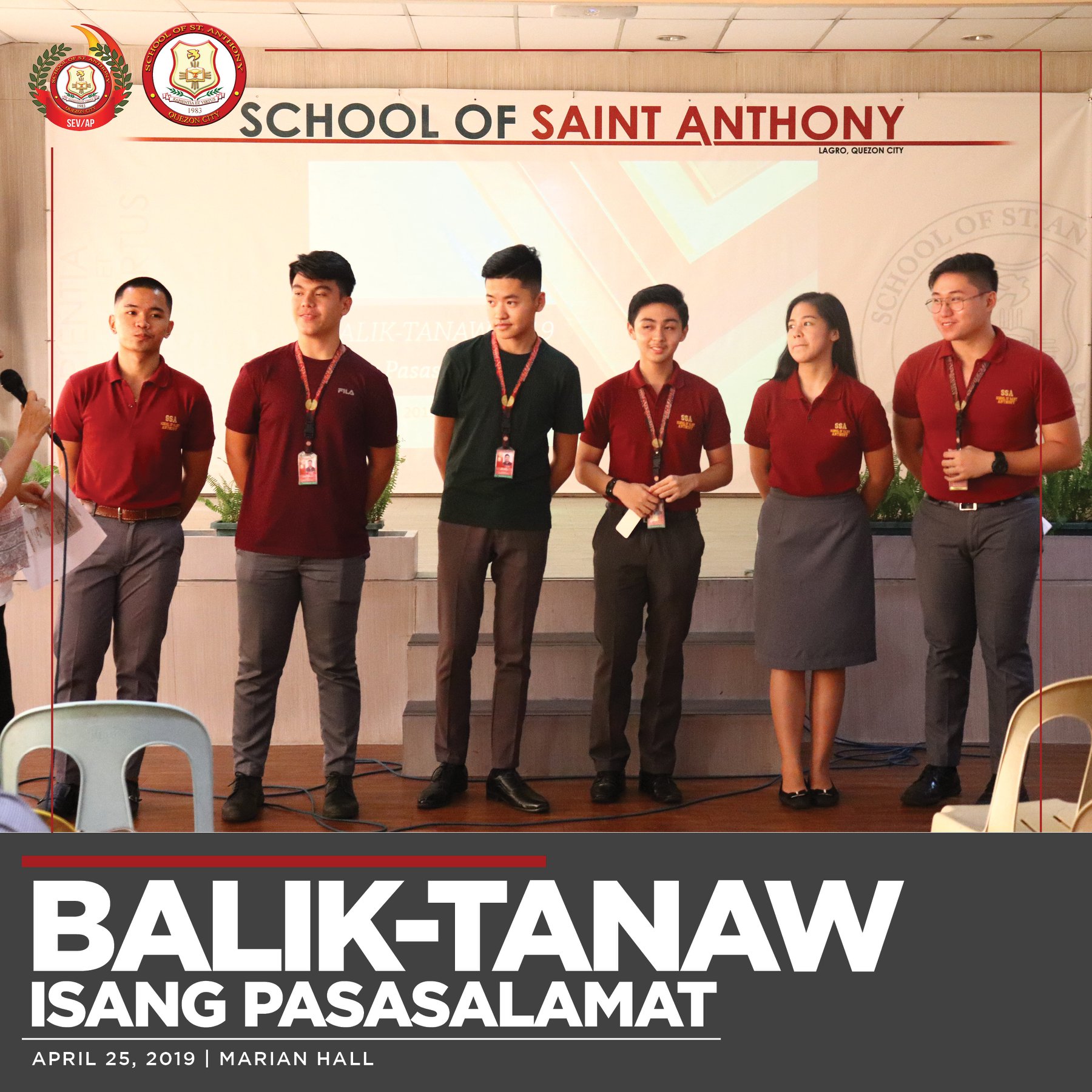 Photo above courtesy of the Sapientia et Virtus/Ang Paglalayag Team https://www.facebook.com/SEVAPPublications/

Address: Blk 89 Lot 43 C Lagro, Quezon City
Email: info@schoolofsaintanthony.edu.ph
Contact No.: 936-4806 loc 101
SSA Alumni Association
www.ssa-alumniassociation.org | Copyright 2019 All right reserved.