History
Although the SSA Alumni Association has been holding gatherings and activities since school year 2001 under the leadership of Sherelle Robes-Ignacio of Batch 1992, the School of Saint Anthony Central Alumni Association (SSA-CAA) was formally organized in 2010. Mrs. Victoria A. Coralejo, School Directress, invited graduates from batches 1992 to 2010 to come together for a brief meeting about the purpose of organizing the Alumni Association. An election of officers took place right after. Hence, Monchie Redoble of Batch 1993 was elected interim President. The group of officers, under his headship, initially planned the Induction of Officers in October 2010. However, due to unforeseen circumstances, the Induction of Officers did not materialize and the line-up of officers had been reshuffled. Sherelle Robes-Ignacio was then reinstated as Alumni Association President alongside the following officers - Emmark Dela Cruz of Batch 1996 as Vice President; May Bragado of Batch 2002 as Secretary, Kelly Grace Train-Romasanta of Batch 1993 as Treasurer, Roselle Aguilar as Public Relations Officer; and Board Members' Jonathan Pascua, Jovie Flores, and Elizabeth Chongawen. Meetings were then set once a month to map out pertinent plans in formally organizing the SSA-CAA .

In October 24, 2011, the induction of officers was held in a simple ceremony at the SSA Covered Court concurrent with the Founding Anniversary of the School, Thanksgiving Mass, and Employees' Service Awards. The inducting officers were Congressman Winnie Castelo and Councilor Precious Hipolito-Castelo. Excited and charged that the SSA-CAA is finally organized, the officers set their monthly meetings to discuss and plan for the creation of a functional alumni association website that will reach Anthonian Alumni from across the globe and the staging of a Grand Alumni Homecoming simultaneous with the School of Saint Anthony's 30th Founding Anniversary.

The SSA-CAA Website, through the design assistance of Arnold Bailing of Batch 1992 and SSA's web developer, Marlon Mestica, has been active since June 29, 2012.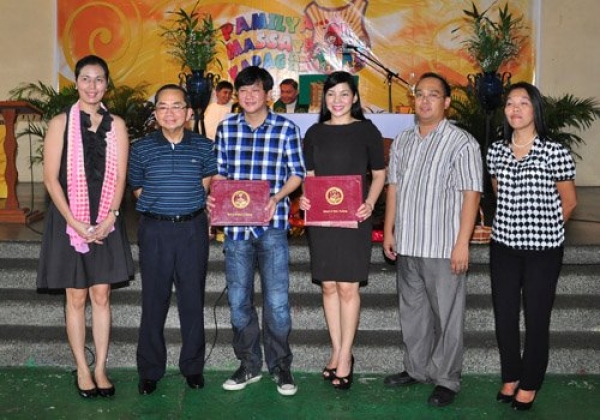 Address: Blk 89 Lot 43 C Lagro, Quezon City
Email: info@schoolofsaintanthony.edu.ph
Contact No.: 936-4806 loc 101
SSA Alumni Association
www.ssa-alumniassociation.org | Copyright 2019 All right reserved.